Integrated PR - 27th January 2011
Many of the best PR results come from responding to external news stories, rather than simply announcing things that have happened inside your firm.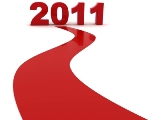 At 80:20, much of our time is devoted to offering the media reactive, expert comment from our clients, on topics as diverse as the UK Government's National Security Strategy, Google's ambitions for travel-related search and December's record snowfall.
This approach has an excellent success-rate because it helps journalists with stories they are already working on and gives another dimension to the information they have.
The same principle of responding to external events can also give added topicality to press releases.
Here are five examples of major events and trends the media will be writing about in 2011. If you can plausibly link your PR to any of them, you could give your business a valuable boost.
1.            The Recovery. The progress of economic recovery seems certain to be the year's dominant news story. If you can offer insights, case studies or news that illustrates particular twists in this ongoing tale your input could fall on fertile ground with the media.
2.            The Royal Wedding. In the build-up to Prince William and Kate Middleton's April wedding, and in its aftermath, the press will go into overdrive in its royal coverage. As well as writing about the central players, the media will report on businesses and individuals playing a supporting role. So, for example, if you are supplying sugared almonds for the wedding favours or can give travel advice about the royal honeymoon destination, your 15 minutes of fame could be beckoning.
3.            The Olympics. Preparations for London's 2012 Games are stepping up a gear, and the media is watching. The next Olympics will affect thousands of businesses and millions of lives. You may be directly involved, like the firms building the Olympic venues, or indirectly linked, such as a vuvuzela importer speculating on potential public demand (God forbid). In either case, if you have a novel take on what the Olympics mean for the wider public you could have a great story to offer.
4.            Location-based social networking. The next wave of journalist excitement about social media is likely to focus on location-based networks, such as Foursquare (which reportedly grew by 3,400% in 2010 and has signed up its six-millionth user) and Facebook Places. If, like US airline JetBlue, you have something to say about these technologies the media may be all ears.
5.            Android. Although many of us are currently in love with Apple's iPhone, some analysts are forecasting Google's Android technology to be the long-term winner in mobile communications. If you are developing an Android app for your business or have other news that demonstrates the power and acceptance of this technology, you have material that a reporter may be keen to hear.