Aviation - 6th October 2010
October 6 2010, London – Leading private jet company Ocean Sky has been hosting one of the most exciting new aircraft in business aviation.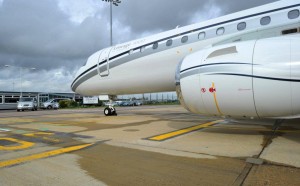 Brazilian manufacturer Embraer selected Ocean Sky's Jet Centre at London Luton Airport to demonstrate its large-cabin Lineage 1000 business jet to customers in the UK.
The Lineage 1000 was showcased at the Ocean Sky Jet Centre for two days in late September. The aircraft was shown to a series of potential customers, in a busy schedule that included both on-the-ground demonstrations and demonstration flights. The programme relied on all aspects of the Jet Centre's fixed base operator (FBO) services, including VIP reception and hospitality, fuelling and flight planning.
The Ocean Sky visit by the Lineage 1000 formed part of the UK stop on the demonstrator aircraft's global tour. The aircraft arrived at Luton having flown nonstop from Mumbai (India).
Stephen Grimes, Ocean Sky's chief executive officer, says: "The Lineage 1000 is aimed at the most successful and discerning business jet owners. Embraer was therefore concerned to ensure that the customer experience on the ground reflected the excellence of the aircraft. We are delighted that our Luton Jet Centre was seen by Embraer as a natural venue for these important customer meetings."
PHOTOGRAPHY:
High resolution photographs of the Embraer Lineage 1000 at Ocean Sky's Jet Centre at London Luton Airport can be found here.