Aviation - 12th October 2012
London, England, October 12, 2012 – London Executive Aviation (LEA), one of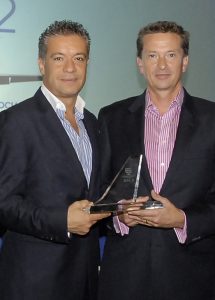 Europe's largest business jet charter operators, is today celebrating being named 'Best General Aviation Operator' in the prestigious Baltic Air Charter Association (BACA) Excellence Awards.
LEA was honoured at a ceremony held yesterday at the Guildhall in London. This is the third time the company has scooped the 'Best General Aviation Operator' award in the BACA Excellence Awards.
The award was decided by BACA members, who were asked to nominate the organisations they consider best in class. BACA is a premier industry association, which since 1949 has represented the interests of commercial aviation companies, particularly air charter providers. It represents over 125 UK and international companies, including air brokers, charter airlines, airports, business aircraft operators, consultants and others involved in air charter, scheduled flying and air cargo.
LEA's managing director George Galanopoulos says: "We are absolutely delighted to receive this recognition from our respected industry colleagues, the most demanding group of judges one could imagine. Despite the toughest industry recession ever, LEA has continued to invest right across our business – in our fleet, our service provision and in training and technology. Today's award is a welcome vindication of our commitment to excellence."
Patrick Margetson-Rushmore, LEA chief executive, adds: "The award reflects the extremely hard work of our entire team, who we would like to thank and applaud for this tremendous achievement. Winning this honour for the third time confirms the enduring strength of our organisation. Our absolute commitment to safety and customer service underpins everything we do and it is hugely rewarding to have these values recognised."
Photo caption: George Galanopoulos (left) and Patrick Margetson-Rushmore (right) with LEA's 'Best General Aviation Operator' 2012 award.