Integrated PR - 30th October 2009
With the number of Facebook and Twitter users growing exponentially, it's not hard to see why social media is high on many marketing agendas. The belief that "there's gold in tham thar hills" is supported by recent research from Penn State University that shows 20% of tweets are requests for product information or comments upon products.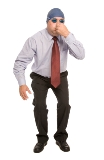 However, many firms are holding back from taking the plunge, with three common reasons being:
Perceived lack of relevance – a feeling that social media is just for teenagers (actually, only a minority of Twitter users are in their teens)
Fear of surrendering control – embracing social media does indeed require a shift from the old 'command and control' approach to communications, as it enables and encourages anyone to publicly air their views about a business
Lack of knowledge – technology moves pretty fast, and not everyone knows where to start
There's no universal prescription when it comes to social media- what's right for one business might be entirely wrong for another. However, it's helpful to see some of the different approaches used by companies around the world. Perusing their ideas might help you find the right approach for you.
Our 2009 'Taking the Brave Pills' Gold Award, if it existed, would go to the fearless marketers behind Skittles. They've turned their entire website into a mammoth social media forum. Virtually all the content is generated by others – comments are hoovered-up from Twitter, pics are the handiwork of anyone with a Flickr account and video comes from YouTube. With swearing and all sorts permitted, it flies in the face of conventional ideas of marketing, but it's definitely a bold way to show a brand in touch with its fans.
Our Silver Award would go to First Direct, the UK online bank. Their new social media site firstdirectlive isn't quite as 'full immersion' as Skittles in its approach, but it displays negative feedback alongside the positive. The bank is clearly fairly confident about its customer service and this is an eye-catching but fairly pragmatic way to turn customers into ambassadors. Marketing director Lisa Wood explains the bank's thinking to E-consultancy here.
Among our clients, Cessna and KDS have shown how social media can be adopted selectively to good effect. Cessna recently launched Fly_Cessna, using the established Twitter infrastructure to reach out to customers and fans. It's also set up its own Cessna channel on YouTube. Similarly, KDS's YouTube channel is positively bursting with content about its travel and expense management systems, while its photo library is available for download from Flickr. London Executive Aviation is also on Twitter at LondonExecutive and on YouTube here.
For those who want to dip a toe in the water, Twitter is a good place to start. Mike Steltzner posted on Copyblogger a great primer on tweeting for business and the tools that help.
Come on in – the water's lovely!