Aviation - 21st April 2010
London, England, 21 April 2010 – Top UK private jet charter operator London Executive Aviation (LEA) has seen a phenomenal rise in bookings and enquiries in recent days, and anticipates an extended boom for private jets as corporate and private customers try to circumvent airline backlogs caused by the Icelandic volcano's eruption.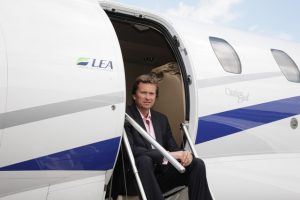 LEA chief executive Patrick Margetson-Rushmore says: "Despite the reopening of UK airspace, the travel situation remains extremely dynamic, as airlines struggle to reposition their fleets and deal with huge passenger backlogs. It will plainly be days or even weeks before life returns to normal, and yet travellers still need to get home and companies have to get on with business. In this situation, business jets come into their own, and we have seen a tremendous rise in bookings.
"Our business jet fleet was able to respond immediately when airspace reopened, and we have many of our aircraft now en route between London and various points in Europe. Because we fly point-to-point, can land at thousands of airfields near our customers' final destinations and have such quick turnaround times, we expect to be carrying hundreds of passengers in the coming week," he says.
"Whether it is collecting stranded passengers in regional locations, or simply people who can't wait for normal scheduled airline services to resume, business jet operators will really be able to help in restarting the European economy as quickly as possible."
He continues: "Nobody relishes the idea of flying from a major hub airport right now, where you can expect to see confusion, frustration, delays and chaos all around you. Happily, business jets can operate from uncrowded general aviation facilities, so travellers stressed out from the uncertainty of recent days will immediately begin to relax as they board one of our aircraft."
Margetson-Rushmore is critical of the way that authorities reacted to the perceived threats of volcanic ash in the airspace: "Safety is our paramount concern, so we will not fly visual flight rules (VFR) low-level operations in the current environment created by the volcanic ash. Nonetheless, although safety should never be compromised, I do think we have seen a general over-reaction by the authorities to a situation that required deeper and more sensible thought – basically, was it really necessary to have such a blanket and wide exclusion zone of up to 2,000 miles? It seems there was not enough serious data assessment at an early enough stage as to the density of volcanic ash in a given place at a given time. After all, the authorities and engine manufacturers will surely have had data collated from previous volcanic events."
For a high-resolution image of Patrick Margetson-Rushmore, chief executive of LEA, click here.