Aviation - 14th July 2010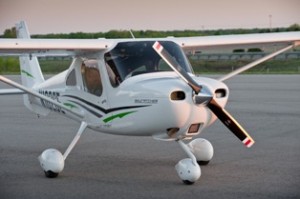 WICHITA, Kan., July 14, 2010 – Cessna Aircraft Company, a Textron Inc. (NYSE: TXT) company, announced today its McCauley Propeller Systems division has achieved ASTM compliance for a new two-blade, fixed-pitch composite propeller for the 162 Skycatcher.
"This is the first of a planned family of composite propellers we have in development, designed for a range of aircraft," said McCauley Vice President and General Manager Peter Wilkinson. "We're excited to have this announcement come on the heels of our consolidation of McCauley."
The 1L100 is a new all composite fixed-pitch propeller specifically designed for the Skycatcher's Teledyne Continental Motors O-200D engine. It consists of a continuous fiber, single piece design giving it high strength as well as light weight. McCauley will continue testing to gain Federal Aviation Administration CFR Part 35 certification, making the propeller available to a wider range of aircraft.
Cessna consolidated its McCauley operations in early July to better focus resources on development programs such as the 1L100. McCauley is owned by Cessna Aircraft Company.