Consumer Brands - 19th December 2008
Facebook is a funny thing, not unlike Marmite.  Half the people you know love it and can't get by without their daily fix.  The other half aren't involved and are pretty sure that it's not for them.  The objections you hear from the latter camp typically include "It's just for teenagers and 20-somethings", "I'm too busy for that sort of thing", and "I don't like getting my private life and business life blended together online". 
There is an risk here that Facebook is becoming synonymous with social networking in the same way that Hoover is the shorthand for vacuum cleaner.  Yes, quite possibly Facebook isn't the thing for you.  However, there are other options out there and one that might very well be right for you is LinkedIn.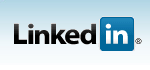 LinkedIn is all business.  It's nothing like Facebook, which many people welcome – ReadWriteWeb's Bernard Lunn speaking for many here.  You can forget about worrying revelations about your private life reaching colleagues and clients because it's not that sort of place.  What LinkedIn is for is helping you build your business and advance your career – and if you're too busy for that maybe you should think again.
There's a really useful podcast to check out on The Hobson & Holtz Report, where Shel interviews Chuck Hester of iContact about the various ways you can use LinkedIn to help with your work.  With a mind boggling number of connections – nearing 7,800 at the time of the interview – Chuck has a few worthwhile nuggets to share.