Press Releases - 4th March 2010
Ely, England, 4 March, 2010 – IT Governance (ITG), the one-stop shop for compliance expertise, is offering the easiest possible route to a comprehensive range of professional IT training, tools and support services.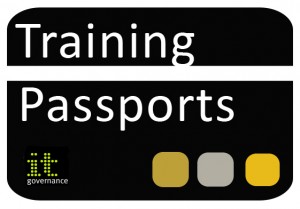 An ITG training passport is a single purchase that can then be drawn on for any combination of discounted training courses and products to be used now or in the future. Each passport brings discounts on:
every classroom course available through ITG, ranging across the company's vast expertise;
every computer-based training (CBT) or e-learning course available through ITG and;
every examination guide, subject manual or other training material available through ITG.
In fact, an ITG training passport covers every course available through ITG in the UK, from the acclaimed ITG masterclasses in ISO27001, business continuity and digital forensics, through the whole range of professional certifications to the accredited ITIL and PRINCE2 courses.
Alan Calder, Chief Executive of IT Governance, says: "There are so many benefits to one of our passports. You can plan ahead with confidence, knowing the money for training has already been invested and cannot be lost. Equally, the discounts are locked in, which helps you to maximise the value of your budget.
"You also minimise your administration time and cost, because you simply receive one invoice for the training passport of your choice, covering multiple courses and products. We keep a running total of usage, so, at any time, you can identify how much money remains to be drawn on and which bookings have been made."
An ITG training passport also allows an organisation to keep on top of the latest technologies and business needs. Any new products and courses added to the ITG range during the life of a passport automatically become available at the discounted prices.
The passports offer enormous flexibility. There is no need for an organisation to finalise delegate details until the ideal course and location have been identified. Furthermore, passport-holding organisations access volume booking discounts without having to advance book multiple places or courses.
There are three types of ITG training passport – Bronze (costing £5,000, excluding VAT), Silver (£15,000, ex. VAT) and Gold (£25,000, ex. VAT). All three types cover ITG's own-brand courses; third-party courses; CBT, e-learning and distance learning; and examination guides, training manuals and training packages/kits.
"The levels of discount naturally depend on the type of passport bought," concludes Calder, "and we're talking serious savings. If you hold a Gold passport, for example, you can secure a 30% discount on all ITG's own-brand courses.
"But it's not all about money. When you buy an ITG training passport, you also know that you will be served by eager, friendly and efficient consultants, devoted to maximising the benefits of your training. Our coordinators take all the hassle of dealing with multiple training vendors away from you."
Full details of the ITG training passports, including a breakdown of the discount rates and details of how to place an order, can be found at: https://www.itgovernance.co.uk/training.