Integrated PR - 29th December 2008
We make no apologies for being rather pedantic about spelling and grammar – the written word forms a large part of our output, so we care about getting it right.  I was therefore amused and – sad to relate – rather chuffed with one of the stocking fillers I received for Christmas, Bill Bryson's book Troublesome Words.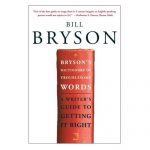 Prior to assuming his mantle as perhaps Britain's most cherished American emigree, as writer of various wry travelogues and other works, Bryson was a newspaper journalist.   His career included stints on both The Times and the Independent; he therefore knows a thing or two about committing and correcting egregious spelling errors and syntactical howlers.
Back in 1983, Bryson was commissioned to compile The Penguin Dictionary of Troublesome Words while working as a young subeditor on The Times.  The same work has since been updated several times, most recently in 2001, and since 1997 has been published under the current title.
For anyone who cares whether the correct choice in a sentence should be 'that' or 'which', or who wants to know whether 'envision' or 'envisage' is the appropriate word, this is the book for you!  Both as a reference work and occasional casual read this is great stuff.  (Just don't expect too many people to share your enthusiasm!)