Aviation - 13th March 2010
WICHITA, Kan., March 13, 2009 – Cessna Aircraft Company, a Textron Inc. (NYSE: TXT) company, today announced the Citation CJ4 has gained type certification by the U.S. Federal Aviation Administration (FAA). Deliveries are set to begin later this year.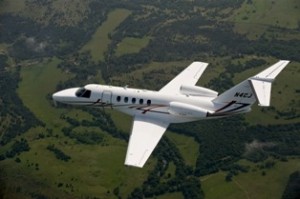 The Citation CJ4 is the newest and largest member of the popular CJ family of business jets consisting of the Citation CJ1+, CJ2+ and CJ3. The CJ4 is approved for single-pilot operations and shares a common pilot type rating with the other CJs (a pilot rated to fly any one of the CJs is rated to fly them all). Retail price in 2010 dollars for a typically equipped Citation CJ4 is $9 million.
The final results of extensive flight testing have validated significant performance enhancements including a takeoff distance of 3,130 feet (954 meters) at maximum takeoff weight, capable of a direct climb to 45,000 feet (13,716 meters) in just 28 minutes, a maximum speed of 453 knots (839 kilometers per hour), a range of 2,002 nautical miles (3,710 kilometers) with two crew and five passengers, and a landing distance of 2,700 feet (823 meters) at maximum landing weight.
The Citation CJ4 also offers an extensive standard equipment list including a four-screen Collins Pro Line 21 avionics suite with electronic charts and graphical weather, TCAS II, EGPWS Class A TAWS, Dual Mode S Diversity transponders with ADS-B out capability, Multi-Scan weather radar, Emergency Descent Mode, and an essential electrical bus.
The aircraft will debut the new Williams International FJ44-4A electronically controlled (FADEC) engines which gained FAA certification on Feb. 2. The cabin can be configured for up to eight passengers with a standard, belted aft lavatory. The Citation CJ4 also debuts the Rockwell Collins Venue cabin management system that includes BluRay DVD with HD monitors, moving maps and XM radio.