Aviation - 19th July 2010
Farnborough, England (July 19, 2010) – Bell Helicopter, a Textron Inc. (NYSE: TXT) company, and Mitsui Bussan Aerospace Co., Ltd announced the agreement for the sale of seven additional helicopters. The deal includes four new Bell 429s helicopters and three Bell 412s.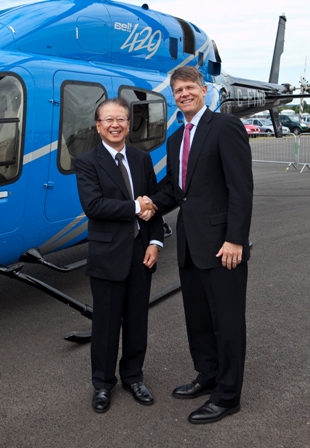 Purchased for private customers in Japan, these helicopters will be used for a multitude of missions from utility to corporate transport and emergency medical services (EMS).
"This contract demonstrates our confidence in Bell Helicopter to meet all of our customers' mission requirements and expands our portfolio of helicopter services," said Mr. Yukihiro Tanaka, CEO, Mitsui Bussan Aerospace Co., Ltd. "We are honored to be part of the extended Bell family and look forward to strengthening our partnership even more into the future."
Mitsui Bussan Aerospace has been the Bell Helicopter independent representative in Japan for more than 50 years. Over the course of those five decades Mitsui Bussan Aerospace has been responsible for inaugurating more than 1400 helicopters into the country.
"Bell helicopters are known for their rugged reliability and unparalleled performance. Our customers depend on these aircraft to support the work they do every day," said Larry D. Roberts, Bell Helicopter senior vice president, Commercial Business. "We are committed to building on the long-standing tradition of working with Mitsui Bussan Aerospace and partnering to provide operators in Japan with the safest, most reliable helicopter solution."
Certified as a single-pilot instrument flight rules (SPIFR), Category A helicopter under the latest requirements of Part 27 airworthiness rules, the 429 offers the largest cabin in its class and has raised industry standards in terms of safety, maintainability, and performance.
So far this year the 429 has flown more than 1300 potential customers in demonstration flights throughout Asia. The 429 has also provided customer demonstration flights in Latin America and is currently on tour in Europe.